By Tim Buckley (MFA 2014)
Welcome to Halle 18 @ The Spinnerei
Dream Land. This is dream land. The time is flying by here in Leipzig. Our first month is nearly up, and the experience has so far exceeded any expectations I might have had. To bring everyone up to speed, I'll quickly list a few very important things in bullet format and show some pictures.
Berlin is an entrancing city where one can responsibly stay out until 5am.

Hans Holbein the Younger is pretty good.

Danish cheese is frightening.

Cospudener Lake is a castle in the air/land of milk and honey/Elysian field.
My old roommate Megan and neighbor Mike were on a month-long European tour. They played a show in Leipzig at LU99, a once vacant, now repurposed building on the east side of the city. Everyone piled into Sam's (a painter from Belgium, and past resident at L.I.A) van and went to the show. There was homemade rhubarb schnapps and ice cream, and it was a wonderful time.
Reppin' dat Plagwitz. Kevin's turn to cook dinner, and a dinner it was.
Chow Mein for the children.
There is a healthy sense of comradery here at L.I.A as we all take turns cooking big dinners.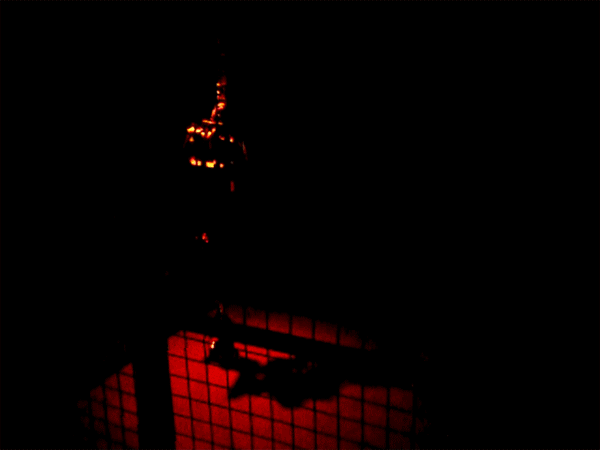 One of the many robots at Bimbotown
Every Tuesday night, The Whiskey Bar opens here at the Spinnerei.
A few buildings behind us, the trampled down weeds lead you through a chain link fence, between some trailers and into a most commendable homespun hang out/barbeque/bar area.
An ample man with a large black beard
flipping sardines with chopsticks and simultaneously grilling pork chops is the debonair keeper of this domain. The food is delicious, the beer is cheap
and soon after sundown the place is filled with people as they leave their studios in search of a drink and conversation.
When you need to use the bathroom, you get to walk through Bimbotown, the creation of British artist and inventor
Jim Whiting.
Bimbotown is like a psychedelic Pee-Wee's playhouse nightmare in the best possible way.
A most commodious interior filled with bizarre robots, hidden passages and fun house architecture.
Pixelated currywurst now with gnats. Das Original! Travel Tip #0: Be wary of the tempestuous currywurst.
More than one in a day and you're going to have a bad time.
The 2013 Leipzig group with Academy alumni Lily Koto Olive
outside of the Neo Rauch Graphic Arts Foundation
A few days ago we all took a train with Mareike (who is currently interning at L.I.A) to the town of Aschersleben. A little over an hour away from Leipzig, this small town is where Neo Rauch spent his childhood. The graphic arts foundation has in its collection one edition of every graphic work the artist has created. In addtion to lithographs and screenprints, the foundation has sketches and small working drawings on display. After a tour of the gallery, we drank apple juice and talked about important things.
I first became acquainted with The New Leipzig School
as a sophomore in undergrad.

Until now, my only contact with it has been through print media or the Internet, save for the one show I saw at David Zwirner. Like the English Renaissance, I was way late and far removed from the original ideas and culture that made these works of art. My interpretation was devoid of history and intent.
A month has now passed as we live, work and form new friendships with people in Leipzig. Slowly I'm beginning to put the pieces together. We live in a massive piece of communist architecture. Everyday we pass De Chirico-esque towers, ride our bikes through small passages along the canal and walk through corridors and streets that

seem familiar but until now have only existed in my memory through the paintings I've seen.
At night we drink with others who themselves or whose parents grew up in a very different East Germany. We receive history lessons over 50 cent beers and argue about painting. My first month here has been a time of immense personal growth, and I'm sure the month ahead will be just as rewarding.